Empty inner cities, cancelled fashion shows, cloudy consumer mood: The coronavirus pandemic has hit the already struggling brick-and-mortar fashion retailers hard. Although the crisis has brought an upturn to online retail, it still presents great challenges for many established in-store players in the industry. For 2020, the BTE Textile Trade Association expects massive losses for the brick-and-mortar fashion trade which was already struggling. First forecasts show that the brick-and-mortar fashion trade is losing 30 percent of revenue.
Online retail will be equal to brick-and-mortar trade in in 2030
Although fashion retail has been showing manageable, yet steady, sales growth for years, the sales shares are shifting more in favour of online retail. In just 10 years, online fashion retailers will have the same market share as high-street fashion stores. This is one of the results of the study entitled "Fashion 2030– See what's in fashion tomorrow".

Chart (in German only)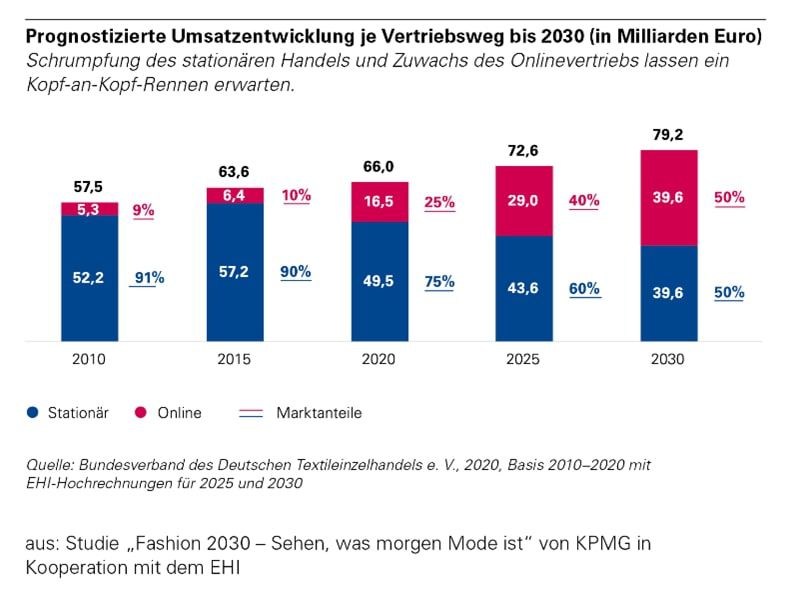 Area reduction of up to 50-70 percent predicted
The industry's sharp declines in revenue and challenges are not without impact: For our study, we spoke with experts from trade and industry. They expect an area reduction of about 50 percent – in exceptional cases up to 70 percent.

The reduction of retail spaces will affect department stores and multi-story formats the hardest. This is a dilemma, as a majority of consumers prefer to shop in brick-and-mortar stores despite all online alternatives. "To ensure a successful shopping experience, there should be vital, attractive and entertainment-oriented inner towns. These will only come to fruition with the cooperation of all the local players involved and in collaboration with conceptually aligned urban development," says Stephan Fetsch, Head of Retail, Head of Consumer Goods.
Used look: Used clothing is coming into fashion
For almost half of the consumers surveyed, sustainability is already a worthwhile concept today. This includes re-commerce and second-hand. 34 percent of customers already buy used clothing, another 28 percent may consider doing so. The trend towards second-hand clothing has the potential to combine a market share of up to 20 percent over the next decade, thus becoming a significant market segment in fashion retail.

The study will also provide answers to questions such as:
How do merchants get to know their customers better in order to build up individual customer loyalty?
What AI solutions help to optimise the value chain?
What role will the circular economy play in the future?
Download our fashion study here to read the survey details and scenario analysis based on five megatrends for the fashion industry: