Powered Enterprise is a globally proven methodology from KPMG that combines our extensive technical, industry and process knowledge with the technology of tomorrow - including RoboticProcess Automation, hybrid and cloud solutions. On this basis, we develop an effective, individual strategy with our clients.
The Powered Enterprise process model maps the entire business processes of a company. Transparency, speed and optimal controllability are the key factors in the focus. Six important dimensions are included: the right service delivery model, functional processes, employees, technology, data and reporting as well as governance and controls.
Chart (in German only)
A range of pre-configured content, dashboards and role models enables our clients not to have to start from scratch. Powered Enterprise saves time, provides security and is proven to improve transformation efficiency.
Chart (in German only)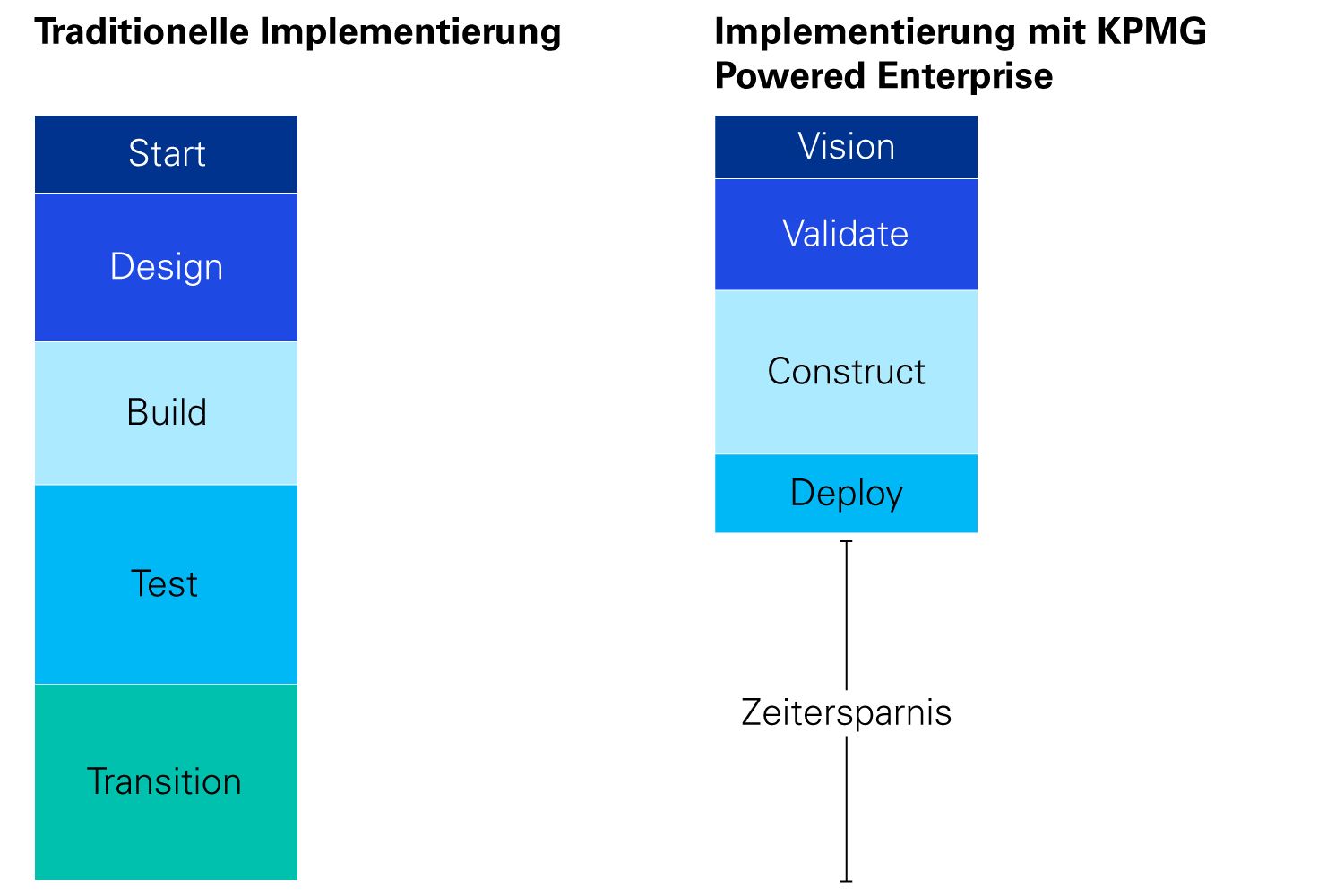 Chart (in German only)
| | |
| --- | --- |
| Ebene des Operating Models | Was steckt dahinter? |
| Prozess | > 350 vordefinierte Prozesse |
| Mitarbeiter | > 160 Stellendefinitionen, >30 webbasierte Schulungskurse, >180 Trainingsstunden |
| Technologie | > 160 vorher erstellte Integrationen, > 30 Umsetzungen, > 3.200 Testskripte, >200 standardisierte Expertentätigkeiten, > 370 Lieferartefakte |
| Daten und Reporting | > 250 Berichte, > 20 Dashboards, > 80 Dashboard-Seiten |
| Governance | > 850 Kontrollpunkte, > 70 vordefinierte Sicherheitsrollen |
| Service Delivery Model | Gemeinsam genutztes Dienstleistungszentrum, Kompetenzzentren und Outsourcing-Konzepte zur Optimierung der Diensleistungserbringung |