Governmental and European subsidy programmes help to increase the competitiveness of the business environment and finance innovation in the Czech Republic. Preparing a grant application and writing it correctly is usually a challenging task. Few people are as experienced in preparing projects as tax and subsidy expert Karin Stříbrská. At KPMG, Karin heads a team of twenty experts dedicated to the comprehensive preparation and processing of subsidy projects. Over the last seven years, the team has helped companies obtain subsidies in excess of one billion crowns.
How many grant projects have you worked on? Can you quantify the amount of grants awarded?

The number of projects goes into the upper double digits. But much more interesting is the approved investment volume my team has helped companies get. Over the last seven years, it exceeded one billion crowns. I also appreciate that we can boast a 100% success rate for projects submitted in the last programming period.

What kind of subsidy programmes have been involved? What specific opportunities did you identify?

The majority of these were subsidies from the OP PIK programme managed by the Ministry of Industry and Trade. Most of the applications were prepared for the Innovation programme, the aim of which was to introduce unique processes into production and onto the market in the Czech Republic. We also had numerous projects related to investments in research and development.

Which companies are among the applicants for subsidies? Can you specify them, e.g., based on their sector, turnover, or the region in which they operate? Or is each client different?

Most of the applications we prepared were for large companies; we seldom participate in projects for small and medium-sized companies. Clients came mostly from the automotive and engineering industries, but we have also worked on projects in the construction, software, and chip development sectors. And as new grant opportunities open up, I look forward to seeing interest from clients in other industries as well.
Which sector or field are you particularly interested in?
Interesting developments are taking place in the automotive industry, where we are cooperating with some big players on the market. In the last three or four years, we have seen a sharp shift towards electromobility, which is receiving a lot of subsidies. In the production of electric cars, everything is different: huge factories are reacting with incredible flexibility, expanding operations rapidly, developing production lines and introducing new production technology principles... It is amazing to get to watch this boom up close.

Apart from the automotive sector, in what other fields do you know your way around?
A big challenge is to prepare projects for chip manufacturers, for example. We communicate intensively with the developers during the writing of the application and thanks to this our team quickly grasps new concepts. We have to get a handle on and a good understanding of the terminology of the industry. For me, it is very satisfying to be able to write a sophisticated application at a high level. That said, I'm still happy with any project, especially when it gets approved.

Do you usually prepare subsidy projects for KPMG's long-term tax or legal advisory clients, or are you more often approached by new clients?
I think it's about 50/50, and we have a lot of clients that we help repeatedly and who've submitted five or more grant projects with us.

What sets your team apart from other consultants?
Compared to conventional companies offering subsidy consulting, our clients receive comprehensive services. We score points with companies because we help them not only with the formulation of the subsidy plan and the processing of the subsidy, but also with their accounting or subsequent audits. I know of several cases where clients have handled grant applications on their own or with another advisor and only turned to us to resolve disputes in follow-up audits. We always try to help, but if they missed something key at the outset, the options for help at later stages are quite limited.

Karin Stříbrská, Tax Senior Manager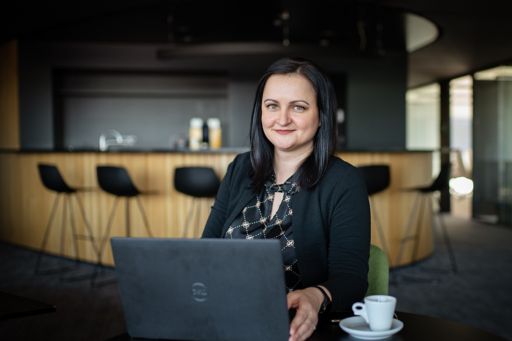 What does subsidy advisory look like in practice? It's not just about filling in boxes on a long form, is it?
Optimally, we work on projects from A to Z. We start by discussing the company's medium-term investment plans, continue by identifying a suitable grant programme and, if a suitable one is found, start preparing the application itself. Most often, we prepare everything tailor-made, where we ask for key information and supporting documents, and the client's involvement is therefore minimal. However, it is not possible to write the application completely without the client. A lot of the technical data and information has to be provided by the client, so it's also about getting the communication and expectations right on both sides, and we focus a lot on that.
However, the process does not end with the preparation of the grant application and its approval. What happens after that?
The project is just beginning with the approval of the application. This is usually followed by a three-year project implementation process, during which we help clients with ongoing administration, monitoring of project changes and, finally, with the subsidy pay-out itself.

A big issue are inspections of approved projects. What is your experience, are there often problems?
Usually, inspections of the use of the grant come at the final stage, either just before the grant is paid or at any time during the project's maintenance period, which is usually five years from the end of its implementation. In my experience, inspections are quite frequent. We do not leave our clients without support and advise them at this stage as well. If we know the project and the client and have been in it with them right from the start, there is a good chance of success during inspections. In the projects we have implemented, we virtually have so far witnessed only successfully completed inspections.
When you work with a company on the preparation of subsidies, you most likely also get the chance to get to know more that the company's financial side. How is it different and rewarding compared to working as a tax advisor?
It's a great chance to get in-depth insight into the workings of companies in different industries. I love meeting people from manufacturing and development, and I can learn lots of interesting and often even secret information. I would have a hard time finding out how chips are made, how high-tech headlights for premium cars are tested and developed, how giant truck parts are moulded, or how cancer drugs are developed if I were just preparing tax returns.