KPMG launches framework to help businesses gain greater confidence in their AI technologies
KPMG launches framework for AI technologies
As artificial intelligence (AI) technologies accelerate business transformation, with more decisions shaped by machine-learning (ML) algorithms, responsible use of these powerful tools is paramount. Moreover, appropriate governance must be in place to achieve desired outcomes.
Why KPMG - AI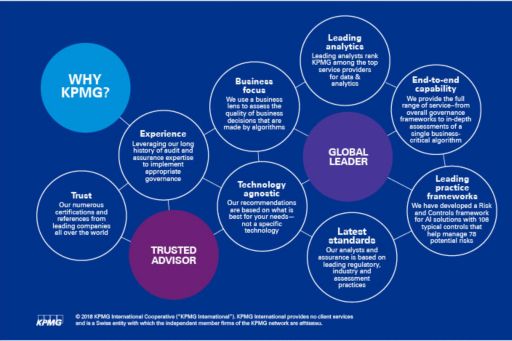 To help organisations manage and evolve AI responsibly, KPMG has introduced AI In Control, a framework supported by a set of methods, tools and assessments to help organisations realise value from AI technologies while achieving imperative objectives like algorithm integrity, explainability, fairness and agility.

"With many businesses on the road to digital transformation, most executives guiding the journey do not trust the analytics that generate decisions within their organisations", said professor Sander Klous, PhD, global lead of KPMG's AI In Control offering and a partner with KPMG in the Netherlands. "The growing awareness of the need for trust in decisions generated by AI is now focused on the organisations that develop these technologies and their responsibility for ensuring quality and integrity. This focus should make it a priority for executive and supervisory boards of these organisations."

Cathy O'Neil, mathematician and CEO of O'Neil Risk Consulting and Algorithmic Auditing, Inc. (ORCAA) said: "We are pleased to be working with KPMG in the management of algorithms. This collaboration will allow us to focus on ethics and accountability and scale up the algorithm review process by combining with KPMG's experience in technology risk and governance. Across the AI landscape, there is an urgent need to manage bias, fairness and accountability."

KPMG's AI In Control offering utilises a framework to help guide organisations along the AI evolutionary lifecycle from strategy through execution to evolution. The AI In Control framework includes methodologies, tools and recommended controls for an AI program to drive better business outcomes through:
Artificial Intelligence Governance: Designs and sets up criteria for building and continuous monitoring and control of AI solutions and their performance, without impeding innovation and flexibility.
Artificial Intelligence Assessment: Conducts diagnostic reviews of AI solutions and risk assessments of control environments to determine organisational readiness for effective AI control. It further provides methods and tools to evaluate business-critical algorithms, puts testing controls in place and oversees design, implementation and operation of AI programs to help address AI's inherent challenges: integrity, explainability, fairness and agility.

AI In Control for the City of Amsterdam
KPMG is currently working with the City of Amsterdam to assess a digitised municipal service that will help enhance the public's confidence in a safe and well-maintained city and to assist the City in its mission to protect the digital rights of residents. Amsterdam's issue management system for public spaces allows residents to easily file service requests online for matters such as trash on the street; the algorithm identifies issue type and which municipal service unit will respond. In the near future, the application will also determine the priority level of issues. Through machine learning, the algorithm's decision-making should improve over time.

The potential risks are inherent in machine bias. Data such as the geographic location of the issue, for example, could inadvertently lead to patterns of learning that the algorithm would eventually use as a rule, possibly drawing the wrong conclusions and resulting in biased decision making. AI In Control allows for an effective evaluation of the risk management framework to monitor processes, providing continuous control of evolving AI applications.

"The true art of the possible for Artificial Intelligence will become unlocked as soon as there is more trust and transparency. This can be achieved by incorporating foundational AI program imperatives like integrity, explainability, fairness and agility which are the premise behind our offering", said Martin Sokalski, KPMG Global Emerging Technology Risk network leader and a Principal with KPMG in the US.

"Our clients rely on our global KPMG Lighthouse network to combine their business experience with sophisticated algorithms and analytical models to help them not only uncover new insights for their business, but then define the actions that need to be taken on the insights to drive business value," said Gerasimos Ntouskas, Principal and Data & Analytics Service Line Lead of KPMG in Cyprus. "This process is heavily reliant on trust – trust in the data, trust in the algorithms and trust in the insights that are generated."

Mr. Konstantinos Botsaris, Digital Innovation Manager at KPMG in Cyprus said: "We are very excited for the release of a solution that will support our Algorithmic Assurance services. Algorithmic bias is a very important element to consider when solutions incorporate technologies such as Machine Learning and Artificial Intelligence. Given the recent advances in these areas where model complexity arises and interpretation becomes quite challenging, AI in Control can safeguard both trust and transparency. At local level, the KPMG Digital Innovation team works both in developing new solutions but also localising existing ones from KPMG's global network, aiming to support and further enhance our services to clients."




·
© 2023 Copyright owned by one or more of the KPMG International entities. KPMG International entities provide no services to clients. All rights reserved.

KPMG refers to the global organization or to one or more of the member firms of KPMG International Limited ("KPMG International"), each of which is a separate legal entity. KPMG International Limited is a private English company limited by guarantee and does not provide services to clients. For more detail about our structure please visit https://kpmg.com/governance.
Member firms of the KPMG network of independent firms are affiliated with KPMG International. KPMG International provides no client services. No member firm has any authority to obligate or bind KPMG International or any other member firm vis-à-vis third parties, nor does KPMG International have any such authority to obligate or bind any member firm.
The views and opinions expressed herein are the personal opinions of the interviewees and authors based on their personal experience working as Auditors in the industry and do not necessarily represent the views or opinions of KPMG International or any KPMG member firm.
Stay up to date with what matters to you
Gain access to personalized content based on your interests by signing up today