Booming business in India
India has been an important and fixed point on the internationalization map of many companies for decades, whether as a sales, market or production location. One of the largest growth markets worldwide, the country looks set to enjoy continued - high rate - economic growth. Although the Indian market is established as an opportunity for Swiss companies, red tape and a dense regulatory environment discourage many from taking the next step. Companies doing business with or in India often have questions around compliance and regulatory requirements, including the use of special economic zone (SEZ) advantages. They also appreciate insights on financing their Indian operations, applicable transfer pricing regulations and how to deal with money transfers, especially repatriation of funds to Switzerland.
With many years' experience and close ties between KPMG professionals in Switzerland and India, KPMG is expertly positioned to understand the complexities of doing business on the sub-continent and to support your company's activities in India. Our deep expertise on India's contrasts and opportunities and leading position as provider of professional services means we can deliver informed perspectives, local knowledge and clear, value-adding solutions.
We facilitate and support your market entry in India, whatever your sector. Already highly familiar with the conditions in India, our specialists also have full access to the expertise of local KPMG colleagues. This makes KPMG a valuable partner for you beyond market entry and into the development and management phase of your presence in India.
Regulatory and tax topics on your investment in India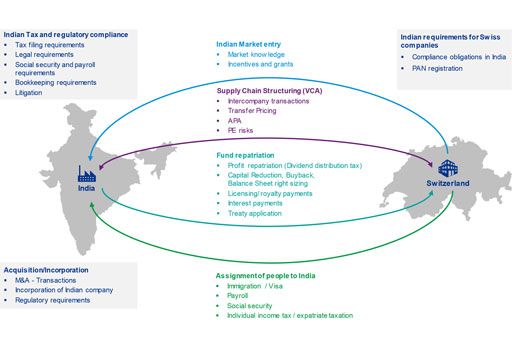 Our Services in connection with your investment in India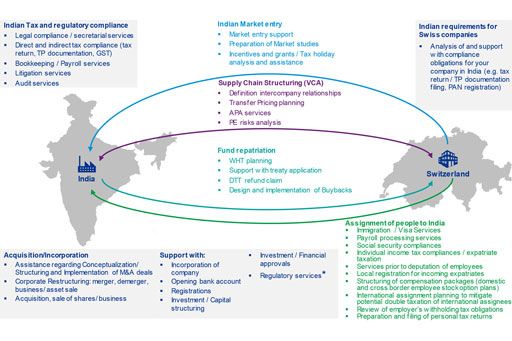 Successful Indian companies are also discovering the Swiss and European markets. Boasting an excellent business environment and competitive tax system, Switzerland is a top destination for international firms seeking a base for fast and durable growth in Europe. KPMG Switzerland has recently supported various Indian groups in setting up their global supply chains and can use the insights gained to smooth the way for your company's next transformation step.