We're all used to hearing about the global health pandemic but should the Australian Engineering and Construction industry be gearing up for an inflationary pandemic and potentially even a series of contractor collapses? Let's explore the issues more closely.
A confluence of challenges
COVID-19 and unpredictable weather patterns across Australia have taken their toll on the Engineering and Construction sector – and, though supply chain disruptions are abating, shipping costs are still around twice pre-COVID levels. Australia absorbed most of the impact in 2021 and early parts of 2022, but the global ramifications of geopolitical tension in Ukraine make the future increasingly uncertain.
1. Labour shortages
Skilled labour and white-collar staff shortages have caused significant headaches for both private and public entities that are targeting to deliver more than $50 billion worth of capital infrastructure in the next five years. Everyone is on the lookout for high calibre and experienced resources – competing in an already constrained labour market and offering salaries well above industry norm.
2. Inflation
While the Australian economy has rebounded strongly, a tightening labour market, high commodity prices and contractor reluctance to take on risks is driving inflation to historic highs.
Although food, fuel and material inflation is expected to ease in 2023, domestic momentum will remain and we expect to see the headline inflation fall through 2023.
High inflation has been a global issue and is forcing central banks to tighten monetary policy aggressively – elevating the risk of recessions in many advanced economies including Europe, UK, and the USA. A global recession would be a drag for Australia, most notably for service and manufacturing exporters.
KPMG believes supply chain shocks are likely to become more prevalent and geopolitical tensions will remain heightened, coupled with globalisation stalling. In addition, climate events and the energy transition continue to be navigated, all this meaning inflation is very likely to become more volatile.
3. Contractor collapses
Avoiding contractor collapses is predicated on culture, innovation and accountability. It requires greater focus on project schedules as the key driver across procurement, delivery and ultimately project costs.

The public sector can also look to create a more sustainable market for infrastructure while the private sector can focus on building a sustainable pipeline, allowing for the essential and aspirational requirements to be met, including:
investments in T&D, innovation
digital technology with predictive escalation forecasting
modelling and supply chain volatility assessment
productivity improvements across the board.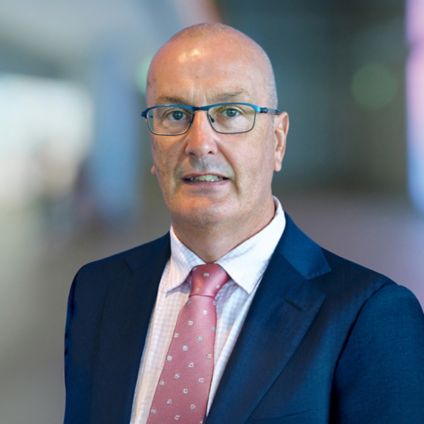 Explore further infrastructure trends
Building for better with KPMG
KPMG Infrastructure, Assets & Places draws on our deep sector expertise to meet challenges at any stage of the asset lifecycle.

Whether planning, procuring, delivering, operating or transitioning – we help clients to deliver projects that are environmentally sustainable, socially impactful and drive lasting economic growth. We believe in building for better, together.
Get in touch to find out how we can support your infrastructure project.