The six pillars of CEE have been consistently shown to be the essential characteristics needed to build strong experiences. The presence of these six factors is essential if commercially beneficial outcomes result from superior customer experience.
Whether that is increased share of wallet, loyalty, or advocacy, these six factors are the prerequisites for commercial success. However, as they are all interconnected, it is essential to be good at all six.
Interestingly over the past couple of years there has been a rapid rise in holistic thinking, and realization that a competitively superior experience is multi-dimensional and often multisensorial. Our leading organizations are masters at managing the six pillars as a set.
Integrity
As we move closer and closer to the data economy and customers share more and more personal data in exchange for highly personalized experiences, the emphasis on data security and privacy continues to increase.
As more data privacy regulations similar to EUGDPR are introduced around the globe, businesses that adhere to these laws, uphold stringent data protection measures, and make the right use of customer data will earn customer trust and grow quickly. Central to this is getting the balance right between benefits for the company to sell more and benefits to the customer.
Customers are more likely to trust organizations that pair privacy and security with a valuable personalized service.
Transparency and security are now integral parts of the individualized experience. With rising security breaches, customers are ever more security conscious and are much savvier than ever when regarding potential threats to their security. It is crucial that companies become transparent regarding how they collect and store customers' personal information.
A strong sense of societal and environmental purpose has become the defining characteristic of leading companies. Businesses globally are being scrutinized on their sustainability credentials like never before. KPMG research shows 66% of customers plan to make more sustainable or ethical purchases in the next six months, and that employees, investors and other stakeholders are equally if not more resolute.
To be authentic 'sustainable organizations' the focus needs to go beyond the cosmetic to real change that's embedded throughout an organization's DNA.
Resolution
Detecting, resolving, and removing customer pain is a prerequisite for excellent customer experiences fueled by outside-in thinking. "Pain killing" is a state of mind, identifying problems in customer journeys, problems in customer's lives and finding new ways to solve them using innovation.
"Jobs to be done" methodologies enable deeper understanding of customer lives, help locate pain points, and drive more holistic experiences aimed at prevention rather than reaction.
AI-supported customer service, where the technology is supplemented with human interaction, interpretation, and support, is driving greater satisfaction with agent interactions. AI conversational web chat and chat bots are improving satisfaction with online support. The secret is finding an appropriate balance between keeping skilled human agents and integrating AI into critical parts of the customer's experience.
However, the area that leading companies are increasingly focused on is using advanced predictive and prescriptive technologies to mitigate customer problems before they occur. There are sound economic reasons for doing this as there is a direct relationship between the incidence of problems and churn rates. The telephony industry in particular is focusing on using AI tools to aid detection of problems and automate interventions in the "free return window," fixing problems before they occur and before the customer leaves.
Expectations
Perhaps the most significant shift in recent developments is the way that expectations are set. User-generated content, influencer marketing, and leading experiences are constantly setting and resetting expectations. The rapid advance in technology is stretching the boundaries of possibility and therefore making expectations more fluid.
One example is the metaverse. This describes a persistent, online environment where we can connect, communicate, and collaborate in increasingly immersive ways. Allowing brands to deliver new and interesting customer experiences over virtual platforms is likely to be a key reason the concept will be attractive to businesses, particularly as integration with virtual and augmented reality (VR/AR) will be a core feature of the metaverse.
Already in 2022, businesses are looking to these experiences to create new opportunities for us to interact and engage from our homes — such as IKEA's Everyday Experiments.
Time and Effort
When it comes to using energy, the brain is an expensive organ. Even in its resting state it uses over 20% of the body's energy. Consequently, humans are careful about expending brain power. Psychology has identified the "law of least effort", a tendency amongst humans to take the line of least resistance when seeking to meet an objective.
This is one of the reasons why customer effort is a strong predictor of loyalty. The less effort it takes to be a customer the more loyal we become.
Unsurprisingly, companies have focused on creating frictionless processes. But attention now is expanding to look at "cognitive load," or how much thinking we make customers undertake and what does this do in terms of stress and anxiety; they not only want to make things quicker, but less stressful too. This means looking at the complexity of what the customer has to deal with in their lives, not just the interaction with the company and finding ways to make the customer's life easier.
"Cognitive load" increases the need to ease customer journeys. For example, customers won't take the time to read complicated communications and work through hoops. AI and other new technologies are making it simpler to remove cognitive load for customers by doing the thinking for them.
To this end, several theme parks have introduced virtual queuing to remove much of the stress and anxiety of theme park visits.
Personalization
Greeting customers by name in emails or remembering their birthdays has a positive effect on CX. But customers today are no longer impressed by that. They expect highly personalized experiences every time they engage with a business, and they already know that businesses have tools to achieve this.
Companies have become adept at leveraging real-time customer data such as their website behavior, search results, purchase history, most active times, and past interactions can help develop a deeper understanding of their needs and personalize their experience.
This can range from customizing the website based on customer activity to intelligently recommending products or reaching out to customers with individualized offers and rewards at the right moment.
As more companies compete based on personalization, there is a gradual move towards hyper-personalized experiences, and the brands that can provide those experiences consistently will likely stay relevant and increase customer satisfaction over time.
Achieving this shouldn't be difficult with modern CX platforms with advanced AI and data analytics capabilities that help slice and dice customer data and gather meaningful insight.
However, as more organizations design hyper personalized experiences, there is a delicate balance to strike when using smart technologies like geo-tracking and device listening. For customers the line between hyper personalized and creepy is a thin one.
Gartner has identified a growing level of concern predicting that 40% of customers will "trick behavior tracking metrics to intentionally devalue the personal data collected about them." The motivation, says Gartner, is customers who no longer wish to be treated as "the product" and have their data monetized. This in turn may diminish the hyper personalized experiences that many customers demand.
Additionally, companies are identifying and acting upon "micro- moments" — selling opportunities that can be open for just seconds but can be highly profitable to brands that understand how to identify and monetize them at scale. These micro-moments can open up when a customer heads online with an intent to make a purchase or just to find out information on a particular subject.
Brands should invest heavily in recognizing and leveraging these moments – finding the right time to send a personalized offer that will help solve whatever problem the potential customer is facing. This is about being able to reach the right customer at the right time — a cutting-edge marketing challenge that's increasingly solvable thanks to the technology solutions available today.
Empathy
Humanizing customer experiences is critical but being able to maintain a brand's unique personality throughout the customer journey when much of the journey is mediated through technology is considerably more difficult.
Organizations want to deliver the best of both worlds: the speed, accessibility, and convenience of online services, combined with a human touch that leaves a lasting impression. It's a tricky balance, but entirely possible.
Many brands use chatbots to engage their customers. When implemented well, chatbots can create a rewarding digital experience. However, many chatbot interactions still come across as unnatural, lacking relevance as well as human warmth. Without the right investment in technology and strategy, companies might unintentionally end up creating conversations that don't reflect the brand or satisfy customers' expectations.
Providing a good customer experience requires enterprise-wide empathy, which entails identifying with and understanding the customer's situation, feelings, and motives. This is pivotal when it comes to delivering excellent customer experiences, especially in the post-Covid-19 landscape.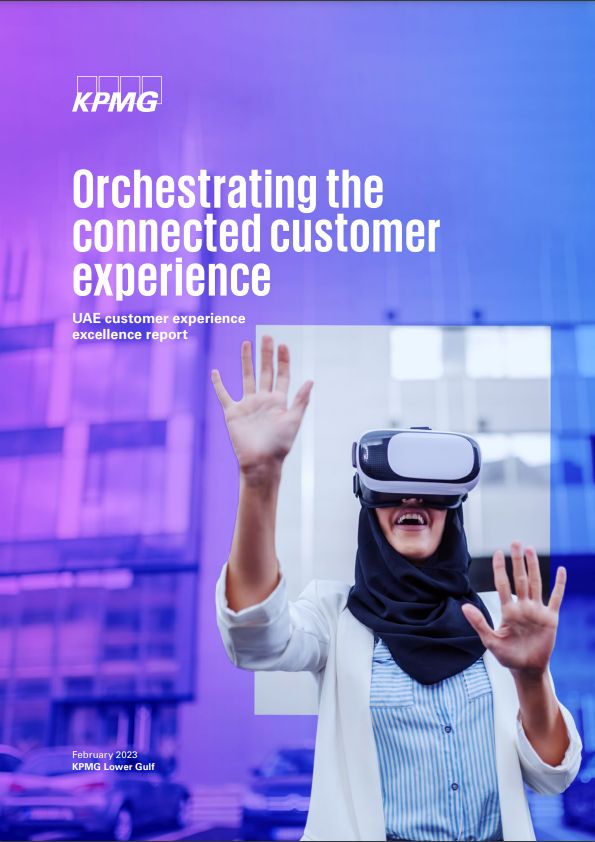 Orchestrating the connected customer experience
UAE customer experience excellence report
Download PDF ⤓
Contact us
Stay up to date with what matters to you
Gain access to personalized content based on your interests by signing up today